John Howe Free Range Bronze Turkeys
£84.04 – £144.91
John Howe turkeys are locally produced in Tenterden, Kent. Their free-range bronze turkeys will be a showstopper at you Christmas table.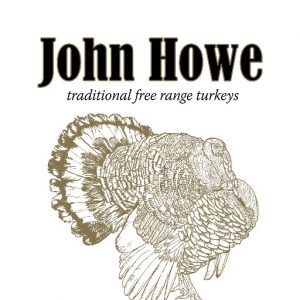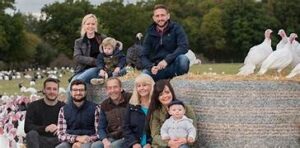 Their ethos is that all their birds, both white and bronze, are free range and roam the grassy meadows and paddocks of their small family run farm.  Birds that are happy and have access to covered yards, clean straw bedding, food and water means that ultimately their meat will be more tender and succulent.  Their birds are slow growing breeds reared to full maturity and fed on a natural, cereal based diet, free from antibiotics and growth promoters.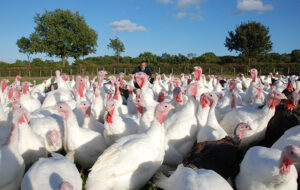 Each turkey is wrapped in greaseproof paper and presented in a carry home box, along with a sprig of rosemary, vacuum packed giblets, a recipe leaflet with cooking instructions and pop up cooking timer.  Everything you need to cook your turkey perfectly on Christmas day.
Cooking times for whole birds
( This is Approximate as ovens may vary)
4kg – 2 hrs
5kg – 2-2 ½ hrs
6kg – 2 ¼ – 2 ½ hrs
7kg 2 ½ – 2 3/4 hrs
8kg 2 3/4 – 3 hrs
9kg 3 – 3 ¼ hrs
For larger birds check every 15 minutes after 3 hrs.
PLEASE NOTE: ONLY AVAILABLE FROM THE 22nd DECEMBER